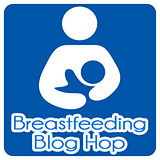 …about breastfeeding was something I "overheard" on Facebook.  I've had "friends" say that they are "all for breastfeeding, but…".
Stop.
You cannot throw a "but" into that sentence.  That's like saying "I love you unconditionally, but I really wish you weren't so fat.  Or so bald.  Or so tall.  Or so…whatever".
Here are some of my favorites:
I'm all for breastfeeding, but women shouldn't be feeding their babies at the table in a restaurant.

I'm all for breastfeeding, but it is a private thing and shouldn't be done in public.  

I'm all for breastfeeding, but once the kid is a year old it's time to quit.  (This one also falls into the "lame advice" category–more on why below.)

I'm all for breastfeeding, but I could NEVER do it.  (Then you're really not ALL for breastfeeding, are you?)
So, now that we've established that I think the above statements are some of the dumbest ones I've ever heard about breastfeeding, I'm sure I'll get some hate mail regarding these.  They'll probably sound something like this:
Dumb Poorly Informed People: Hey lady, nobody wants to look at your boobs while they're eating a hamburger.
Me: Ok, fine then.  Don't look at my boobs while you're eating a hamburger.  

Dumb Poorly Informed People: Hey lady, you should take that kid to the bathroom to feed him so the rest of us don't have to see your boobs.
Me: How about you eat your next meal on the toilet?

Dumb Poorly Informed People:  Isn't he a little old to be nursing?
Me:  Maybe that's what's wrong with you…were you weaned too early and that's why you have to butt in on other people's business?

Dumb Poorly Informed People:  Breastfeeding is great and all, but it gives me the heebie-jeebies…it's kinda gross!
Me:  Some people just aren't mature enough to look at breasts as nourishing tools as opposed to sexual objects.  If that's the case, you're probably not mature enough to be having kids.  What's really gross is feeding your kid all those chemicals.  Look up infant formula ingredients sometime and check it out.  Just sayin'.
Now, on to the "lame advice" portion of my rant.
I have actually had a pediatrician tell me that I should wean my child at the age of 1 year.  He told me that babies only need breastmilk for about a year, then they can drink cow's milk.  When I was told this, I was a very young mom (20-21), and I certainly didn't have near the education I do about the topic today.  I listened, and all three of my older children were only nursed for about a year.
Again, on to more lame advice.  This is also from a pediatrician.  My 3rd child had a problem gaining weight around the time he was between 7-8 months old.  The pediatrician told me that my milk wasn't sufficient and I would have to supplement with formula.  His weight gain was approximately 3 oz. in a 2 month time frame.  I cried, but heeded his advice.  I didn't want to feed my baby the formula.  Looking back, the fact that this same child had just gotten over a bout of pneumonia should have been a factor in his weight gain issue.
Now, 7+ years later, I know better.  This is mostly due to my desire to educate myself more about things like homebirth, breastfeeding, child growth, etc.  Did you know that the World Health Organization recommends breastfeeding for the first TWO years of a child's life??  See the recommendation HERE.  If you read the link, you'll see that they also recommend exclusively breastfeeding for the first six months of a baby's life.
I cringe at this piece of advice.  Why, you ask?  Because I recall, quite vividly, feeding my older three children baby food, rice cereal, etc. at the age of 4 months.  When I think back upon that experience, it's no wonder they were such tiny babies!  Their little bellies were getting full on all that low-cal, low-nutritional value food.  Happy Baby (Baby #4) has only recently delved into the world of solid cuisine.  He will have absolutely nothing to do with baby food.  He does like his organic puffs from Happy Baby, but that's about it as far as food marketed solely to babies/toddlers.  He instead prefers to eat what we eat…bread, meat, veggies, fruits, etc.  Now, at just shy of 11 months old, he is slowly increasing his palate and he's growing steadily…at last check for his 9 month visit he was already the same weight my other children were at 12 months…over 19 pounds!
So, I hope this helps other moms out there to set the record straight.  Breastfeeding isn't gross, nor should it be hidden, nor should the weaning process be rushed!  These are my beliefs and opinions…although some are backed by reputable organizations.  To each her own!
This post was written in response to the Breastfeeding Blog Hop prompt.